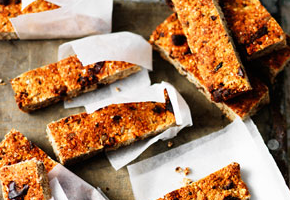 Here's a great recipe we found recently and not tooooo unhealthy!
Prep: 10 minutes
Cook: 25 mins plus cooling
Makes: 20
Ingredients
2 small ripe bananas, mashed
120g low fat yogurt
2 medium free range eggs, beaten
50g clear honey
100g dates, chopped
50g natural wheatgerm
100g wholemeal plain flour
1 tsp baking powder
250g rolled oats
3 tbsp sunflower seeds
75g dark chocolate, chopped
Method
1. Preheat the oven to 200°C, gas mark 6. Line a 23 x 32cm baking tin with baking parchment.
2. Mix together the bananas and yogurt, then stir in the eggs and honey until well blended.
3. Add the dates, wheatgerm, flour, baking powder and rolled oats and stir together well. Fold in the sunflower seeds and chopped chocolate.
4. Spread the mixture into the prepared tin and bake for 25 minutes until nicely browned and cooked through. Cut in half lengthways, then cut into bars. Leave to cool completely on a wire rack.
Thanks to Waitrose for this recipe.