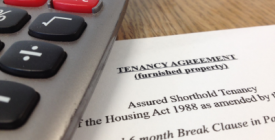 New research by Aldermore Building Society shows that over half the UK's buy-to-let landlords (52%) expect the recent changes to stamp duty and buy-to-let mortgage tax relief to have no real impact on them.
This is even more pronounced among landlords over the age of 55, 61% of whom expect to see little impact.
The research, carried out amongst 1,000 landlords by YouGov on behalf of Aldermore, explores how the recent changes to buy-to-let, which came into force on 1 April, have affected landlords, including whether they would raise rents, sell their properties and what they thought the future was for the private rented sector.
Seven-in-ten respondents expect the number of tenants in the private rented sector to increase over the next five years, but a third (33%) of landlords feel the overall value of the buy-to-let market will decrease over the next 12 months.
Clive Pearce, partner at Clive Pearce Property said that "it's clear that property remains an attractive investment for many landlords, despite the recent changes in tax".
Meanwhile, in separate research, also carried out by YouGov but this time on behalf of HomeOwners Alliance and BLP Insurance, indicated that 47% of UK adults support the stamp duty surcharge, while 18% oppose it.
Clive added "the Chancellor's stamp duty reforms were aimed at levelling the playing field a bit in favour of buyer-occupiers and especially first-time buyers and against professional investors, and the public's support for these reforms seems self-evident".