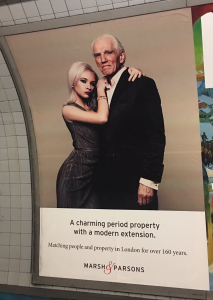 Following an uproar of anger from local commuters that the billboard - which depicted a woman draped over an older man in an expensive suit as a modest, modern extension - was sexist, estate agents Marsh & Parsons have agreed to remove the advert.
This however has not stopped a wave of aggrieved twitter users from posting their disgust at the advert with one user saying that the advert was attempting to make women look like "decorative addendums".
Another user said the advert made her feel as if; "the Married Women Property Act 1882 had never happened. P.S. Women buy houses too".
Another added: "Oh wow. Some people with actual degrees & proper suits sat round a table & all agreed on that. We're doomed."
Meanwhile David Brown, Marsh & Parsons CEO apologised for any offence caused saying: "It was not our intention to cause offence. It would appear that this particular advert - taken apart from the rest of the campaign - has done so and we will be taking steps to remove it as a result."
Of course we at Clive Pearce would never be so crass as to make an ad like this!