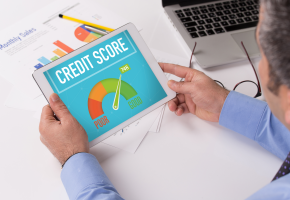 A new survey suggests that many people are struggling to get mortgages due to poor credit scores, and that many only realising they had a poor credit rating at the point their application was rejected.
The research, commissioned by specialist credit card provider Vanquis, reveals that a fifth of people in the UK have been declined credit, with one in ten of this group being denied a mortgage. In the 24-35 year old age group, this rises to 1 in 4 people.
Nearly half (43%) confessed that they have never checked their credit score, rising to 53% of 25 to 34 year olds.
One in ten of respondents said they only realised they had bad credit when they got turned down for a mortgage.
One in ten people believe that regularly checking your credit score will affect your rating and a further 10% believe that your credit score would be better if you don't borrow money, both of which are incorrect, says Vanquis.
Sion O'Connor, Marketing Director at Vanquis, said: "The results of our research are really interesting. It's so surprising that 43% of adults confessed to having never checked their credit score, despite the fact that a credit rating ... is important to be able to borrow money for the important things we want in life, like a mortgage to buy a property of our own. It's concerning that so many people get to the point of applying for a mortgage before they even know there is a problem.
We would advise people who have issues with their credit score not to apply for credit until they have improved their credit score, to get on the electoral register, make sure they pay your bills on time and, in the long term, consider using a credit builder card.
A credit builder card helps improve your creditworthiness by demonstrating that you can borrow money and meet the minimum payment each month."