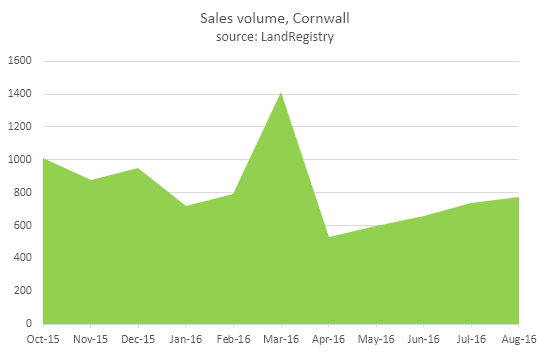 The number of property transactions in Cornwall rose in the two months after the EU referendum, according to latest data from the Land Registry.
The data, which is the latest currently available, shows the number of property sales continued to rise since their drop in May. The pattern seen locally is also seen more widely in England as well as across the UK.
The data shows a marked upward 'tick' in April, when buyers of second and investment homes rushed to complete their purchase before the introduction of the stamp duty levy on this type of home.
May saw a slump, which was not surprising following the glut of transactions the previous month.
But it is the gentle upwards trend in May, June, July & August which shows encouraging signs for home-owners looking to sell and worried about a collapsing property market, feared by many to be a consequence of the Brexit-vote.
Clive Pearce said "events that cause short-term changes in sentiment about the property market have always occurred and will always continue to occur. But as I have believed and said all of my professional career, I believe property will always be a good, sound, long-term investment, whether that is to live in it yourself, or to rent it out".