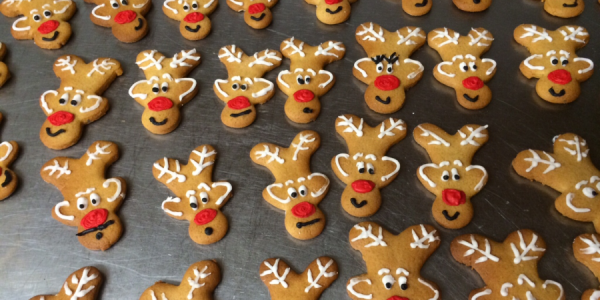 More baking brilliance from friend of a friend: a great recipe which little ones can enjoy making too.
---
These little Rudolphs have a little secret, they're actually upside down gingerbread men!
PREP
Pre-heat the oven to 180°C, gas 4
You will also need two baking sheets, with non-stick liners, and a gingerbread man cutter; I use one approximately 2/3in.
INGREDIENTS
75g light brown soft sugar
2 tablespoons golden syrup
1 tablespoon black treacle
1 tablespoon water
1 teaspoon ground cinnamon
1 rounded teaspoon ground ginger
pinch of cloves
finely grated zest of ½ orange
95g block butter
½ teaspoon bicarbonate of soda
225g plain flour sifted, plus a little more (if needed)
1 tube of white, red and black writing icing (to decorate)
METHOD
Put the sugar, syrup, treacle, water, spices and zest together in a large saucepan, then bring them to boiling point, stirring all the time.
Now remove the pan from the heat and stir in the butter (cut into lumps) and the bicarbonate of soda.
Next stir in the flour gradually until you have a smooth manageable dough. Add a little more flour if you think it needs it.
Now leave the dough covered in a cool place to become firm (approximately 30 minutes).
Now roll the dough out to 3mm thick on a lightly floured surface and cut out the gingerbread men. Arrange them on the baking sheets and bake near the centre of the oven, one sheet at a time, for 10–15 minutes until the biscuits feel firm when lightly pressed with a fingertip.
Leave them to cool on the baking sheet for a few minutes before transferring them to a wire cooling rack.
To decorate, turn them on their heads, the legs become the antlers, the arms the ears and the head his big red nose, with the eyes on what was the tummy!
I like to give them all their own little characters, making them all a little individual as after the antlers, ears, eyes and nose the rest is up to you!
Store in an airtight container.
If giving them as a gift pop a few in a polythene bag with a fancy bow and they'll make everyone smile.
Hope you enjoy this recipe, and have a great Christmas.
Emily Doyle
Paper Doyleys
www.paperdoyleys.co.uk
078 555 40 444